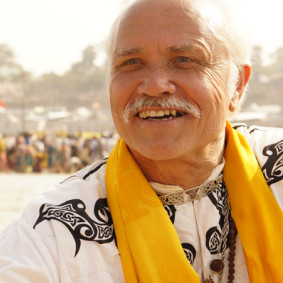 H.E. Rev. Patrick McCollum
Founder and President
H.E. Rev. Patrick McCollum
is an internationally recognized spiritual leader whose focus on world peace and planetary sustainability spans half a century.  Reverend McCollum received both the Mahatma Gandhi Award (2010) and the Ralph Bunche International Peace Award (2016) and was Knighted in 2017.  He was installed as a Tribal Chief and King in Ghana Africa in 2016. Co-founder and President of The McCollum Foundation, Rev. McCollum also serves as Vice President of Children of the Earth and Chaplaincy Liaison for all faiths for the American Academy of Religion.  He is Founder and Co-Chair of the G-Card Program, which trains the directors and administrators of all US State and Federal Correctional Religion programs on accommodating religion in state and federal institutions, and in which the United States Military has also begun to participate.
Rev. McCollum is on the Executive Committee of and serves as the Minority Faith Chair for the American Correctional Chaplains Association. He serves as an advisor for the United States Commission On Civil Rights, and was recommended for a position as advisor for the US State Department, and the White House Office of Faith-Based and Neighborhood Partnerships Under President Obama. Reverend McCollum has worked for over thirty years for Native American and Indigenous rights and served as a strategist at Standing Rock.
Rev. McCollum is creator of the World Peace Violin, which was officially recognized at the United Nations as a symbol of world peace.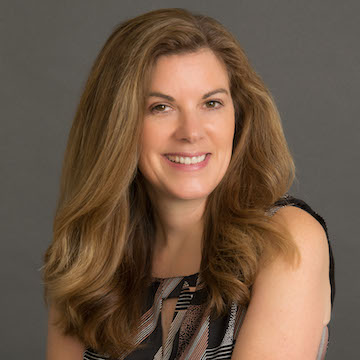 Nell Rose Foreman
Secretary
Nell Rose Foreman BCC, CHT – Nell Rose was instrumental in the initiation and setup of the foundation.  She has worked diligently behind the scenes organizing and helping to grow this organization and to support the mission for over a decade. Her desire is to create a better world, creating equality, and raise the voices of the indigenous to hear their wisdom and heal our home. 
Nell Rose believes to achieve world peace we must be able to feel peace within ourselves. Through her mission called Peace Boss Movement, she helps her clients transform from anxiety into a calm resilience. Her unique process allows healing from micro and macro trauma, raises consciousness, and creates freedom, allowing her clients to reach their highest potential. After all, each of us is a unique piece of the puzzle and is needed to create the whole. She is a speaker and works with both corporate and personal clients.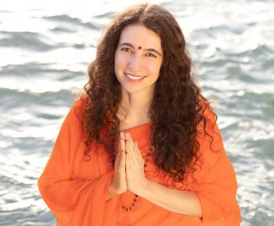 Sadhvi Bhagawati Saraswati, PhD
Director
Sadhvi Bhagawati Saraswati, PhD is a renowned female spiritual leader in India. She is President of Divine Shakti Foundation, a charitable organization bringing education and empowerment to women and children. She is also Secretary-General of Global Interfaith WASH Alliance, launched by UNICEF, the first alliance of religious leaders for Water, Sanitation and Hygiene. She is also Director of the world-famous International Yoga Festival.  Originally from Los Angeles, and a graduate of Stanford University, Sadhviji has lived at Parmarth Niketan, Rishikesh, in the Himalayas for 22 years, where she gives spiritual discourses, satsang and meditation, and leads myriad humanitarian programs.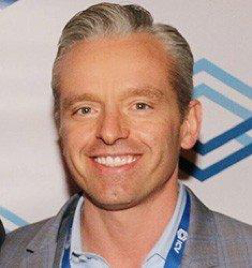 Mr. Robert Smith
Director
Mr. Robert Smith, Founder of ICV Group, has been named one of the 100 Visionary Leaders for impactful leadership in creating a better world. He serves as Senior Advisor for Fundraising and Partnerships for the Permanent Secretariat of the World Summit of Nobel Peace Laureates. He entered Wall Street over 20 years ago with lessons passed down from four generations of family members who worked in the investment industry before him. Since 2006, he has worked for, advised and co-invested with Family Offices, while serving in capacities that involved sourcing investment opportunities, conducting due diligence, and raising capital.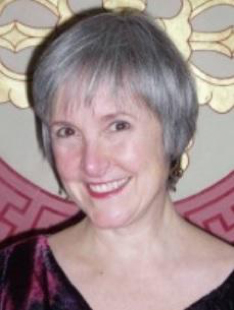 Rev. Deborah Moldow
Director
Rev. Deborah Moldow
's life path has led her from the Broadway stage to the pulpit to the United Nations and all over the world. She is committed to assisting in the transformation of human consciousness that will lead to a culture of peace. She contributes to this global effort through her ministry, her international peace work, her interfaith work, speaking, writing and editing, and her singing, all part of the movement of awakening humanity. She is the Representative to the United Nations of the World Peace Prayer Society, which promotes Peace Pole dedications and World Peace Flag Ceremonies sending the prayer "May Peace Prevail on Earth" to every country in the world.
Deborah is also Co-Director with Diane Williams of the Evolutionary Leaders circle, a project of the Source of Synergy Foundation that brings together visionaries committed to the acceleration of the conscious evolution of humanity in these critical times. An Interfaith Minister who leads innovative monthly Interfaith Sundays at the Chapel at Croton Falls, NY, Rev. Deborah performs weddings and other ceremonies, as well as offering spiritual counseling. She is the founder and president of the Garden of Light, a nonprofit website that offers a gathering place for those aligned with the emerging global spirituality.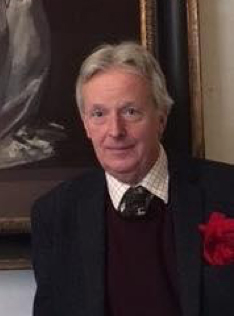 Lord Ivor Windsor, Earl of Plymouth
Director
Lord Ivor Windsor, Earl of Plymouth 

– 
Lord Windsor is the 4th Earl of Plymouth and a direct descendant of Clive of India and Uther Pendragon.  He is 17th Baron Windsor established in 1529 and the 4th Viscount Windsor of St. Fagans established in 1905.
Founder of the Center for Modern Art, Lord Windsor also serves on the Board of Directors of St. Fagans National Museum of History and the National Museum of Wales. He also serves on the board of the British Museum and Barclay's Bank.
Lord Windsor studied at the Harrow School and is a graduate of the Royal Agricultural College in London.
As the administrator and owner of the Earl of Plymouth Estates, the historic Oakly Park Estate, St. Fagans Co. and various overseas industries, Lord Windsor serves his country in multiple official capacities as one of the remaining high nobility of the British Isles.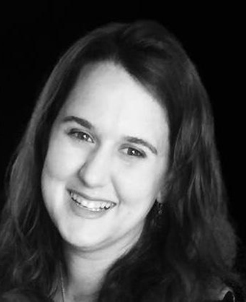 JoHanna Hill
Director
JoHanna Hill is an artist, writer, educator, and mother, based in the Salinas Valley. She is Past President of the Pagan Alliance where she served for a decade organizing a wide variety of events for the Earth-based Spirituality Community. JoHanna was recipient of the Hart & Crescent Award for her years of service to minority-faith children and youth.